Junior Noque
Check back here regularly for more details as they become available
The 2022 Junior Noquemanon will be held at Al Quaal Recreation area in Ishpeming and share the same start area as the 50K ski marathon!
Race Information
All Junior Noque events are Classic
5K  Classic – starts at 4:00pm and is for skiers ages 14-19
3K Classic – starts at 4:30pm and is for skiers ages 8-13
1K Classic (untimed) – starts at 5:00pm and is for skiers ages 7 and under
Age Groups/Awards
5K Classic – 14-15, 16-17, 18-19
3K Classic – 8-9, 10-11, 12-13
1K Classic – overall only
All racers will receive a ribbon with their bibs.
Parents
Parents are allowed to ski with small children ad the back of the race. The Al Quaal venue has great sightlines throughout for the 1K and 3K events.  Full sightlines at all times in the 1K.
Fee Schedule
$15 in advance through January 19th on-line.  Day of registration is available for the Junior Noque – please arrive early to complete day of registration if not pre-registering on-line.
Non-Refundable/Non-Transferable
Entry fees are non-refundable; race numbers and entries cannot be transferred to another year.  No exceptions. This means once we have received your entry, you will not receive a refund if you cannot, or choose not, to participate and you may not give or sell your number to anyone else. If any event is shortened or cancelled you will not receive a refund as our event serves as a fundraiser for the Noquemanon Trail Network and there are significant upfront costs associated with preparing the event even if late cancellation needs to occur. All fees are in U.S. dollars.
1K Course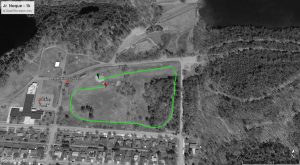 3K Course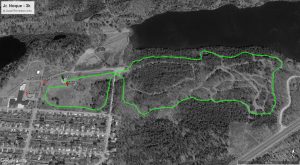 5K Course (2 laps)